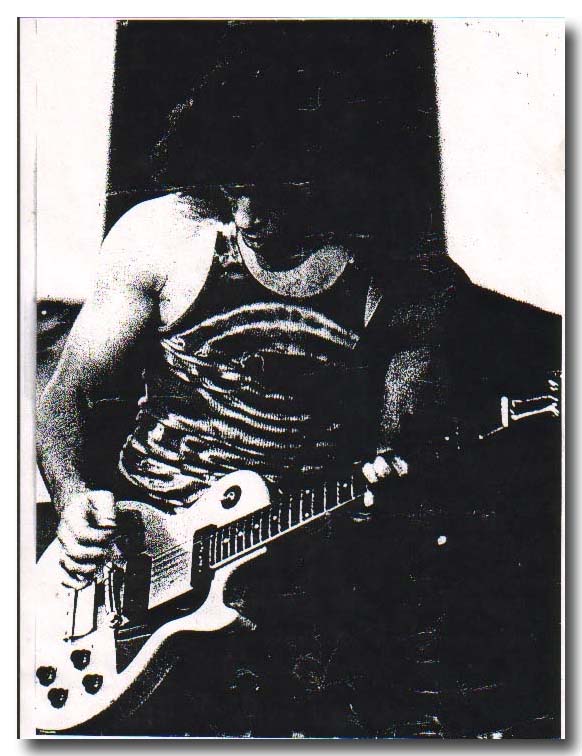 Tom Cool Yolton 1970


Springsteen Stories And Posters


Tom Cool Yolton was the lead guitarist for the band Mercy Flight in Richmond, VA circa 1970. The following page is a collection of original stories about the early days in Richmond, when Mercy Flight had the opportunity to perform several concerts with a band from New Jersey, Steel Mill. who was fronted by Bruce Springsteen. Tom had the foresight to hold onto many of the concert posters used in those days and weaves many of the stories around those posters on display here. Tom Cool still performs today throughout the midwest and makes his home in Central Kentucky.
---
Forword



It was an early autumn night and I was sitting in a car outside the Free University in Richmond, VA. Having just finished our warm up set I was outside but not too far away from the sounds of the next band that we had opened up for because it was Steel Mill and the singer was Bruce Springsteen. Unherald at that time as being the savior of rock and roll he was just the lead singer and guitar player in an out of town band that we lucked into opening for. But the awesome ability he had was quickly recognized by all who were present.
The sky was quickly darkening , there was a storm brewing , and just about the time Springsteen was into the middle of his powerful performance lighting broke lose from the heavens above while the strains of "hail, hail, resurrection" poured out from the upstairs concert hall of the Free University. Rain was pounding down on the roof of the car I happened to be sitting in and I could only shake my head and wonder how someone could be that good, unknowing that I was in the midst of greatness at that time.
Returning to the concert hall to take in what would be one of many Springsteen concerts, I witnessed the incredible response the crowd was giving him and then unbelievingly heard the band announce from stage that they needed a place to crash for the night.
That was in the fall of 1969 and after that our band Mercy Flight, a popular Richmond band , struck up an amicable repoir with Springsteen and Steel Mill and began opening up shows for them when they were in the area. V.C.U. an upstart east coast art school at the time was located in an eclectic area of inner Richmond and the local inhabitants were hip to good stuff so the abilities of Springsteen quickly spread around town.
Mercy Flight, finding itself thrust into greater popularity, lived up to the reputation of being Springsteen¡¯s opening act by laying down a blistering music agenda of their own each time they graced the stage. The Springsteen concerts at that time were an unbelievable learning experience that any one would die for. His story telling and patter to the audience in itself was something which made his appeal even greater. And the music, and the words, and the subject matter, and stage presence were already way beyond anything we¡¯d seen before.
I was lucky enough and apparently had some foresight to save a lot of the posters from that era when Mercy Flight and Steel Mill performed together and on this page they will be displayed with a little story about each event. I originally began saving them for the artistic value but realized the untold history behind each one.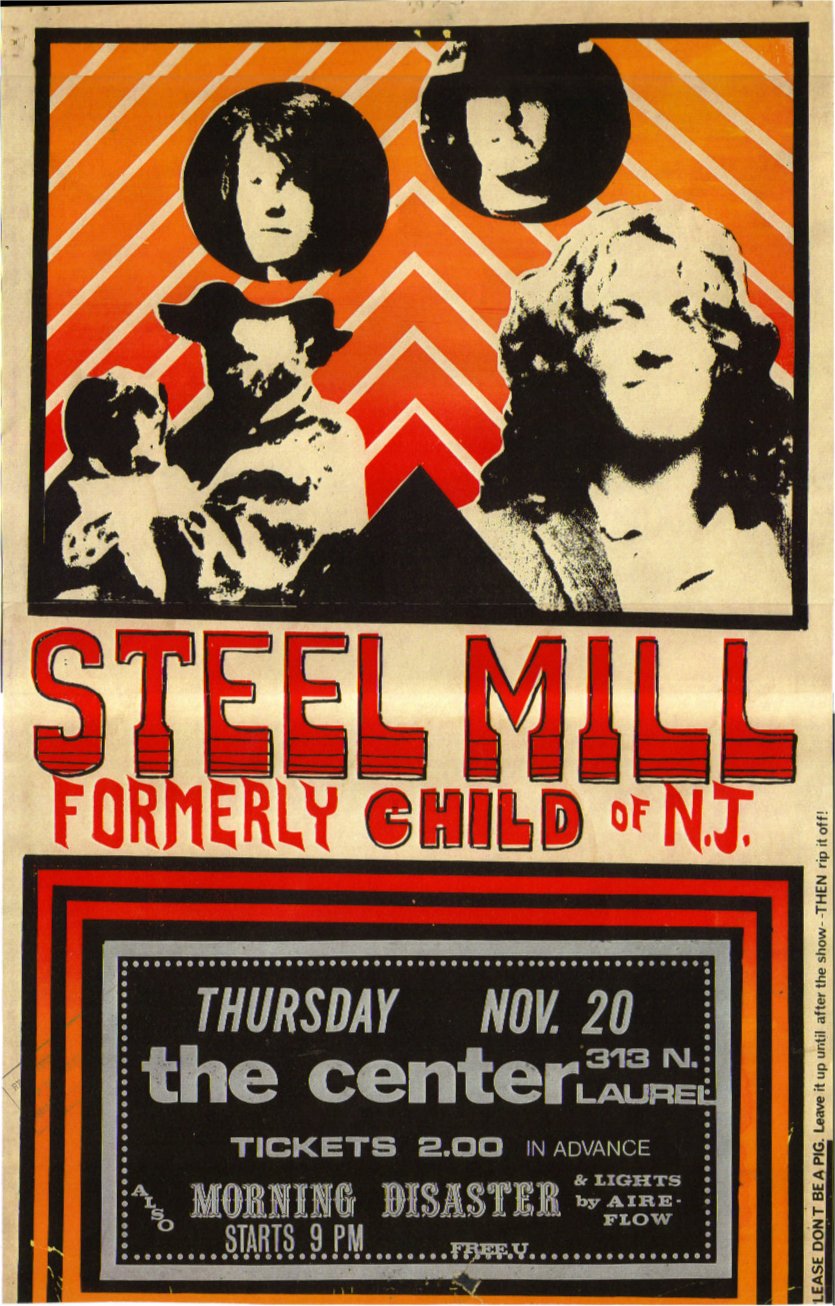 Nov.20, 1969 Our first encounter with Steel Mill. Although the poster says Morning Disaster they couldn¡¯t make it so Mercy Flight filled in. Lucky for us as we were newly formed and just beginning to play out. This was in the old Free University an alternative to traditional universities for free thinking individuals and a place to try to qualify for a student differment from the Vietnam War. Upstairs was a concert hall. Steel Mill had just changed their name from Child. There was some other band in New Jersey with the same name.So this poster dates back pretty far in the chronology of things.

Going down in the late afternoon we arrived on the scene just as the band was heaving Danny Federici¡¯s Hammond B-3 organ up the precarious flight of stairs leading to the Free University¡¯s second floor hall. I remember Springsteen and the rest of the band celebrating after the job was done, apparently a regular ritual, as no one look forward to hauling that thing around. Tinker West, their manager and sound guy...I guess he was their manager, was directing the set up. He owned a surf board factory back in Asbury Park, New Jersey. Surfboards and Springsteen. It doesn¡¯t get any weirder than that.( More surf board factory stories later.) I remember marveling at the large sound system Steel Mill had. They had big speaker cabinets with big amps and lots of wattage. At this time Steel Mill was Springsteen, Danny Federici, Vinnie Lopez on drums and Little Vinnie...I don¡¯t know his real name...on bass. Little Vinnie, during the performance, would just hop around in his little spot on stage constantly. The energy was amazing.

Mercy Flight played their set. We were a brand new band. I came home from class one day finding a note on my dorm room door saying this band was looking for a lead guitar player so come down and practice with them if I¡¯m interested. Our set that night must have sounded all right cause Steel Mill was impressed and began expressing an interest in having us open their shows for them.

Turning the stage over to Steel Mill was an experience. They tore into their songs with explosion. Mind you this was original stuff that had balls. Each song, just as good as the last. I remember going....damn....damn...each time they would crack out a chorus or a guitar part or some vocal impossibility. They had great harmonies. Something hard to find in local bands. They had dynamics. One minute the band could be hush soft, to let the singer accentuate a particular phrase or word, then crash into a volume rise that would catch everyone off guard.

And the singer?
"Who was that guy?"
"Well his name was Bruce" we were told.
"Oh"
"And the band is from New Jersey... Asbury Park....we should come up there some time and play."
"Well that would be cool", we replied." And who¡¯s songs are those?"
"Oh Bruce writes all our stuff."
"Damn those are hellacious." we said
"Oh well Bruce just sits around and writes songs all day...he writes tons of songs."
" What¡¯s his name again?" we asked
" Bruce...Bruce Springsteen."

Well the concert raged on and the crowd was loving it. I think everyone was a little jealous at the adulation Springsteen was receiving but some how I thought it was meant to be. He could pour on the charisma. A sweaty beer soaked crowd at the end of the night heard the band announce from stage they were looking for a place to crash. Something hard to fathom now, but after the tour de force that night Steel Mill had plenty of offers.

I guess I absconded with the poster after the show. I¡¯d always had a fondness for printed art, posters in particular, having gathered an assortment of different stuff over the years. You should see the neat old circus posters I¡¯ve got. When Springsteen hit it big I knew the posters that I had would become valuable one day. I didn¡¯t realize just how valuable until one day I saw a large coffee table book on the subject of Springsteen and in the back was a collection of memorabilia pictures including this poster. I said "hey wait a minute...I¡¯ve got that very poster at home." It¡¯s the poster shown here.



March 27 & 28, 1970 This was at the Hullabaloo. This was not with Mercy Flight and when the word came out that Steel Mill was playing there everyone said "Where?...the Hullabaloo...where in the hell is that?". Turned out it was a place away from the V.C.U. campus. It was more of a dance club with mirrors on the walls...yes I said mirrors on the walls. No rock star is worth their weight in guitar picks unless they've played somewhere with mirrors on the walls.

Since this was kind of an out of the way gig and Mercy Flight wasn't on the bill I obviously don't recall the actual show. Can you imagine that? I didn't even go to the show...and Steel Mill was there two nights. I remember asking someone in the band later about it and getting some reply like "Oh man did that suck...nobody was there ...they wanted us to play dance music...and they had mirrors on the walls".

I guess one of the significant things about this poster is the Steel Mill logo. The use of the industrial lettering to spell the words Steel Mill was now starting to become familiar with the students on campus, or maybe I just thought it was neat. Anyway I grabbed one up from somewhere as well as a tester from the same run. Silk screen posters and t-shirts were popular and I liked the art work. I'm a poster nut. Check out the stamp at the bottom of the poster. This was to show that you had permission from student government to hang the posters around the V.C.U. campus.

By now Steel Mill had started to be somewhat regular around Richmond. I guess all those times pleading for a place to crash from stage paid off. I was still living in a dorm room. No one would let me crash at their place...no matter how much I pleaded. Occasionally, I would see Springsteen walking down Grove Ave. in the Fan District of Richmond at this time and call out or wave to him. Our drummer,"Hazy Davey" Hazlett, had him over to his parents house for dinner many times as well as the rest of his band. These were Springsteen's lean years, I would assume.



May 23, 1970 Friday Night By now Springsteen had become the rage on the campus of V.C.U. This concert was close to the end of the semester. It was in, what is now, the old gymnasium, stage at one side with a backdrop. The floor was open with bleachers on the side if you wanted to sit down.The place was packed. Mercy Flight started their set. Right after the opening notes, because of an electrical surge, the power went off. Don¡¯t ask me how we did it but when they got the power back on a few moments later Mercy Flight was still playing the opening song like we hadn¡¯t stopped,
it was "Mississippi Queen". An obvious crowd pleaser that gave a hint that it was going to be a magical night.

Steel Mill started with what was their beginning song at that time "The Judge". The main line in the chorus was "he¡¯s guilty...he¡¯s guilty, send that boy to jail". This song predates his later songs such as "Johnny 99" where he writes about the main character having to go before the judge to answer for his crime. In this early song "The Judge" the main character was in court accused of playing his music too loud. Springsteen would start with this funky little guitar riff that the band would add to and pretty soon the place was rockin¡¯.

At this time the members in Steel Mill were Danny Federici, Springsteen, Vinnie Lopez on drums and Stevie Van Zant. Steve was the bass player at that point having replaced Little Vinnie who, I suspect, jumped around on stage too feverishly for Springsteen¡¯s liking.
The concert raged on. Steel Mill, with Springsteen leading, captured the crowd. At this time he had shoulder length hair ( the style at that time) and yes, he had patches on his pants, check out the poster. He played, what used to be, a gold Gibson LesPaul. The gold finish had been removed at the surf board factory to expose the wood underneath. Then a smooth coat of polyurethene resin was applied, the same stuff they used on the surf boards. It looked really cool. I did the same thing to one of my guitars later on. He ran that through a stack of Marshall amps.

The magical time of 11:00 came and the concert was supposed to be over but the band , and the crowd , wouldn¡¯t hear of it. Steel Mill plowed on until finally the authorities decided "now we¡¯ll really shut the power off ". Which they did. But they couldn¡¯t shut the drums off. Well ...Lopez, with the help of some unnamed previous performers backstage, continued drumming away. Vinnie pounding on the drums on stage and Mercy Flight pounding on the drums that were backstage. The crowd was dancing and the place just wouldn¡¯t stop. At one point it seemed it was near riot and pandimonium. I think eventually security, or what was supposed to be security, jump up on the stage and grabbed Vinny, the drummer, and after a little fisticuffs hauled him off to jail. I remember it being quite a night.

This is another poster by Squeezo. The words Steel Mill are actually done with a metallic ink. The design, with the steel mill stacks in the background, was now starting to become their logo. The artists behind these posters where students and prior students at the art school at V.C.U. They are all done with silk sceens and required three or four runs to get the finished picture.







Aug. 6, 1970 The Nothings Festival was exactly that, nothing, it never happened. Since music festivals were the rage at that time some promoters in New Jersey decided they would put one together themselves. Well, they had the bands lined up and the posters made but lost the venue where it was going to happen at the last minute. Not before Mercy Flight had driven up from Richmond, Va.

This is when we saw the surfboard factory where Tinker West ran his custom surfboard business. Springsteen, at this time, slept in what was the office with just a mattress on the floor. The place was located in sort of an industrial area somewhere in Asbury Park not too far from the seaside.You couldn¡¯t help but smell the odors of the polyurethane permeating through out the shop for the entire back was where they designed and built surfboards. This was all pretty cool stuff having grown up with the Beach Boys and surf music.Springsteen apparently worked there in his off time applying resins to the finished boards and to the bodies of his electric guitars.

Upon our arrival the band was told about the concert problems and that the promoters were looking for another place so just hang out and enjoy the sights of Asbury Park.Well, we went down to the boardwalk area which, at that time, seemed to be somewhat busy and prosperous and got to check out Tom Potter¡¯s Coffee House where Springsteen hung out with his buddies and played guitars. The stage was really cool because it had built in speakers in the wall and all you had to do was go up and plug into the floor. I remember watching Springsteen get up with just some random other musicians, not members of his band, and jam on something, don¡¯t ask me what, and blow the place away. They ask me if I wanted to get up and play, not after that!

Well, the festival was still up in question so we had the night to party in New Jersey and party we did. One of Steel Mills local friends had a house that was available, as his parents were out of town, and members of both bands piled in. Springsteen usually excluded himself from these kinds of scenes. He was not much on mood altering or alcohol consumption, that I ever saw. At this time Springsteen had just acquired a drivers license, having learned how to drive while on a trip to California earlier that summer. That was the trip that eventually got them to San Francisco, Filmore West and the now famous recording contract from promoter Bill Graham that they turn down. We heard all about it.

The Nothings Festivals, which by the way was suppose to commemorate...well...nothing, thats what we were told, never happened. Mercy Flight got back in the van Sunday morning for the trip back to Richmond having never sung a note. As far as Jeannie Clark, who was also on the bill, we never saw or met her. Stopping by the surfboard factory to bid our good-byes we found Springsteen in his room serenading his latest girlfriend with recently written songs. It wasn¡¯t like you really wanted to disturb him so we just said so long and split.


>









Tom Cool Yolton 1970

Aug.14th.,1970 High atop the 7th and Marshall St. Parking Deck. That was 30 years ago. What a gig! This was one of the coolest places to have a concert. The promoters finagled the location and staged it on the top floor of the Richmond, VA. downtown parking deck 7 stories up. The concert was under the stars and proved to be the biggest event in Richmond that summer of 1970. The concert crew had taped hand-made signs around the edge of the deck saying "Please Don't Jump". Remember, this was the Psychedelic Age and anything could happen. Woodstock had happened less than a year earlier and music festivals had become very popular and peaceful at that time.
The opening act, Marlo Mays, was a friend of mine from a high school band. I think my connections with Mercy Flight help land him a spot on the concert. He was a song writer in his own right and passed away in 1985.

It was a magical night. The weather was perfect and when Mercy Flight got up the crowd was ready. By this time we had built ourselves into a solid opening act for Springsteen and when he came to Richmond if Mercy Flight wasn't also on the bill it wasn't quite a complete show. Our set wailed. I remember during that afternoon I talked Bruce into letting me use his guitar set-up which was a stack of Marshals. My guitar never sounded so good. Our band was really tight at that point having spent the summer living together and jamming together on the farm we had on Hungary Springs Road in Richmond. Our set list consisted mostly of original songs that myself , the singer and the rest of the band had put together. One memorable song of Mercy Flights was "Train Ride". It was later covered by Springsteen and Steel Mill when our singer Robbin Thompson joined his group.That's a whole other story. The concert raged on.

After our set Springsteen took the stage to a warmly lit crowd. I've got to admit Mercy Flight was a popular Richmond band at that time but Springsteen was a god. The top level parking lot deck was packed. People finding their way up the winding entrance ramp that tightly spiraled up the 7 floors to the top. Girls in their latest hippie attire doing twirly dances along the way. Below on the street there was another interesting scene. Going down to the sidewalk during Steel Mill's set the music could clearly be heard. Puzzled unsuspecting pedestrians just kept looking skyward looking for some answer to what all that noise was about.

Steel Mill was a driving force at this time. Each player having found their spot in the over-all sound of the band. Stevie Van Zant seem to add a sense of confidence to the band. Even though he was playing bass at this time...yes he was the bass player...he had that swagger that supported Springsteen's early male posturing.This was something Springsteen needed, I'm not saying he knew that or anybody knew that but it seems that this was an essential ingredient that Springsteen discovered and played off of; a band mate that visually and facially showed that he agreed with what was being said and Little Stevie Van Zant did that. This had to be a time that bonded their friendship and cemented their musical forces.

Memorable moments: Springsteen played bare foot. Didn't wear underwear. One time climbing up on the stage his ass was hanging out of his pants. "God, what a slob" I thought.
Vinnie Lopez, the drummer, during one of Springsteens early songs, a tirade about the Catholic religion called " Hail, Hail, Resurrection" was heard singing "hail, hail, the Erection"
Russell Clem, the smallest man in show business, promoter extrodinare, Mercy Flight mentor and protector, getting up at the beginning of the affair, on stage, in front of hordes of fans, screaming " ARE YOU READY TO ROCK AND ROLL?"

And Rock and Roll it was.



home

Beats Pas Cher replique montres beats by dre pas cher montres rolex pas cher mulberry outlet mulberry sale